The SUL180a/SYN160a analogue miniature time switches are the smaller time switch,Similar to the appearance of MCB 1P.

Description
Common functions:
- Analogue time switch
- 1 channel
- Daily program
- Quartz controlled
- Shortest switching time: 30 minutes
- Fine adjustment for time setting accurate to the minute
- Simple summer/winter time correction
- 48 switching segments
- Screw terminals
- Switching preselection
- Manual switching with continuous ON/AUTO/continuous OFF
- Permanent ON/OFF switch
- Switching status display
- Operating indication
SUL181h
- With power reserve (NiMH rechargeable battery)
SYN161h
- Without power reserve
Applications
- Billboard or Showcase lighting
- Air-condition or Commercial Refrigeration
- Pumps/Motor/Geyser/Fan Control
- Hydroponic Systems
- Wastewater Treatment Systems
- Generator Exercising
- Boilers / Heater Control
- Pool & Spa
Technical data
Type

SUL181h

SYN161h

Operating voltage

230-240 VAC / 110VAC / 24VDC / 12VDC

Frequency

50-60Hz

Number of channels

1

Width

3 modules

Installation type

DIN-rail

Type of connection

Screw terminals

Drive

Quartz-controlled stepper motor

Program

Daily program

Power reserve

7 days

–

Max. switching capacity at 250 V AC, cos φ = 1

16 A

Max. switching capacity at 250 V AC, cos φ = 0.6

4 A

Incandescent/halogen lamp load

1100W

LED lamp < 2 W

20W

LED lamp > 2 W

180W

Shortest switching time

30 min

Programmable every

30 min

Number of switching segments

48

Time accuracy at 25 °C

≤ ± 2 s/day(Quartz)

Type of contact

Changeover contact

Switching output

Potential-free and phase-independent

Power consumption

1.5VA

Test approvals

CE

Housing and insulation material

High-temperature resistant, self-extinguishing thermoplastic

Type of protection

IP 20

Protection class

II in accordance with EN 60730-1

Ambient temperature

–10 °C … +50 °C
Connection Example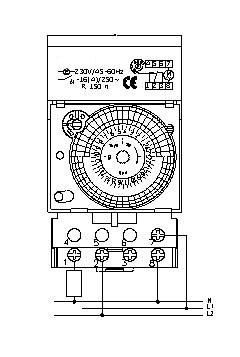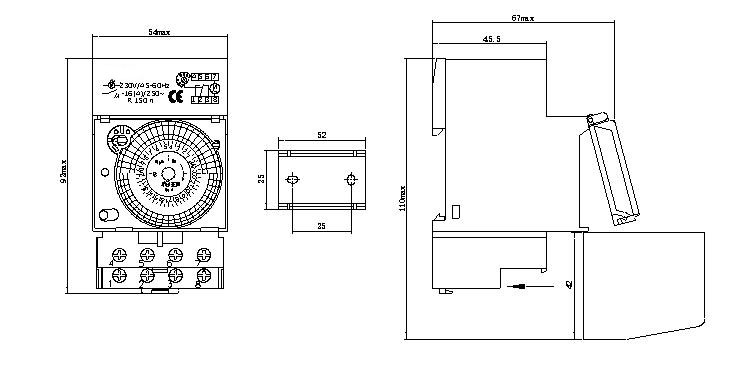 Our Sales team: Professional Exporting team with more than 15 years of experience. all our follow-up service is individual one-to-one. All your comments will be replied in 24 hours. Products are exported to more than 60 countries with over 200 clients.
D. 包装运输相关信息
Delivery:The effective production departments enable us to delivery the goods in time And each customer will be noticed about the delivery time soon after order confirm, and to make sure customer's benefit.
G.质量检测
Quality control: we accept OEM & ODM customization mass quantity production. Following ISO9001:2015 system, the products are produced by automatic line, all products must pass strict inspection for several times, before leaving factory, including the supervisor and machine inspection. Factory audit could be available to our customers if necessary.