1P 2P 3P 4P 16 amp mini disjoncteur tableau electrique CE CB 4.5KA mcb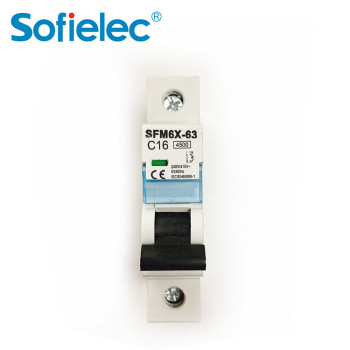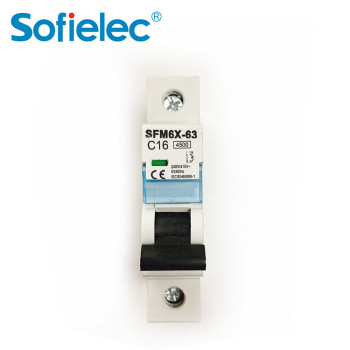 | | |
| --- | --- |
| Categories | Superior 10kA 16 Series Circuit Breaker |
| Model | SFM6X-63 |
| Pole No | 1P 2P 3P 4P |
| Rated voltage | AC 230 |
| Rated current (A) | 1,2,3,4,6, 10, 13, 16, 20, 25, 32 |
| Rated frequency | 50/60Hz |
| Certificate | CB CE |
| Standard | IEC60898-1 |
| Mechanical Life | 10000 Times |
| Update Time | September 25,2023 |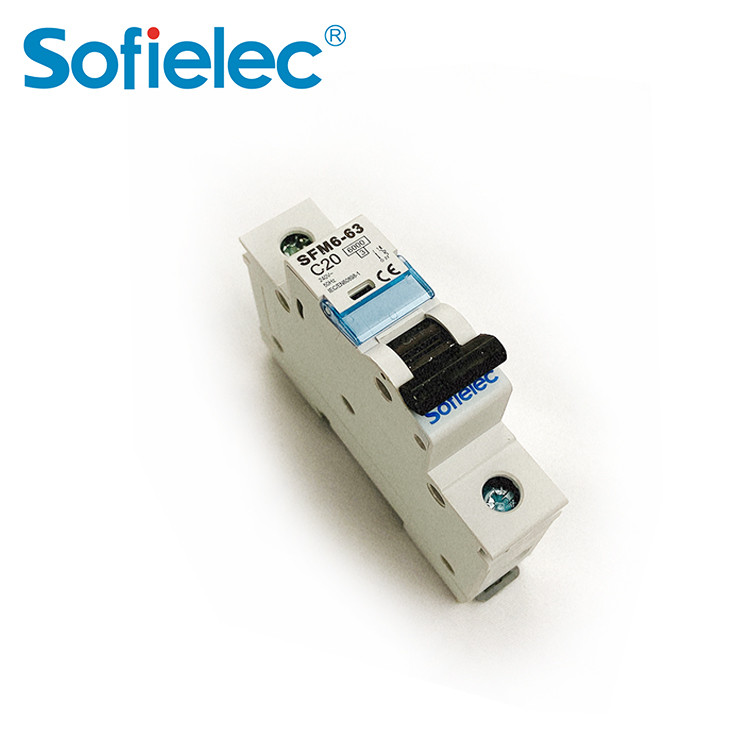 l Rated voltage: AC 230/400V
l Rated current (A):1, 2, 3, 4, 6, 10, 13, 16, 20, 25, 32
l High short-circuit breaking capacity (Icn): 4.5/6kA
l Rated service short-circuit breaking capacity(Ics): 7.5kA
l Rated frequency: 50/60Hz
l Energy limiting class: 3
l Rated impulse withstand voltage: 6.2kV
l Electro-mechanical endurance: 10000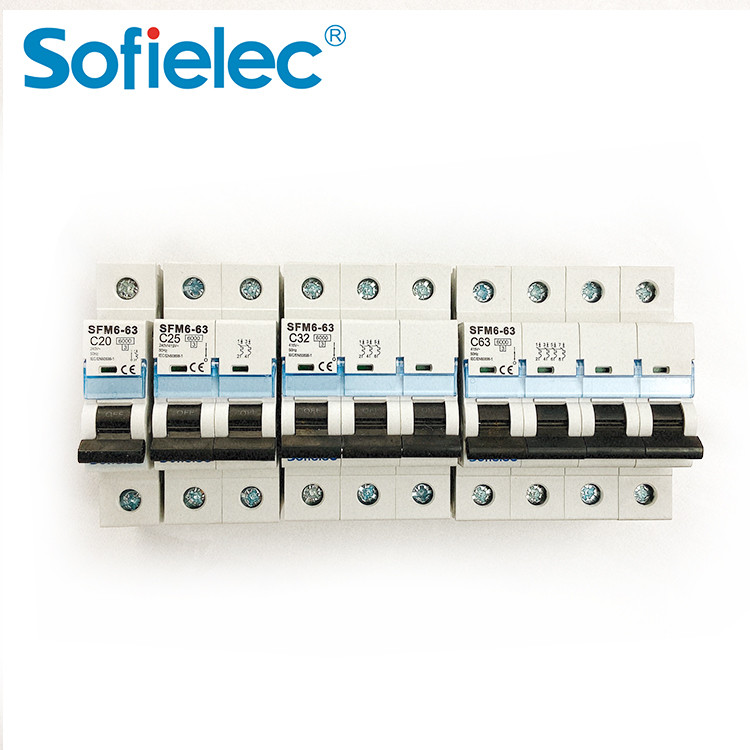 l Contact position indication
l Connection terminal:Screw terminal
                               Pillar terminal with clamp
l Connection capacity: Rigid conductor up to 25mm ²
l Terminal Connection Height: 19mm
l Fastening torque: 2.0Nm
l Installation:On symmetrical DIN rail
                35mm
                Panel mounting
1. The state-of-art design.
Elegant appearance; cover and handle in arc shape make comfortable operation.
Contact position indicating window.
Transparent cover designed to carry label.
2. Handle central-staying function for circuit fault indicating.
In case of overload to protected circuit, MCB handle trips and stays at central position, which enables a quick solution to the faulty line. The handle cannot stay in such position when operated manually.
3. Handle padlock device.
MCB handle can be locked either at "ON" position or at "OFF" position to prevent unwanted operation of the product.
SVM16-32 has arc shape handle that easily comfortable operation. Also make the design of position indicationg window. it has the new function that handle can be locked eigher at "ON" or "OFF" position. to prevent unwanted operation product.
| | |
| --- | --- |
| Pole No.: | 1P 2P 3P 4P |
| Rated Current (A): | 1, 2, 3, 4, 6, 10, 16, 20, 25, 32 |
| Rated Voltage: | AC 240V |
| Rated frequency: | 50/60Hz |
| Tripping Curve: | B, C |
| High Short-circuit breaking capacity (Icn):  | 4500/6000A |
| Energy limiting class | 3 |
| Rated impulse withstand voltage | 6.2kV |
| Electro-mechanical Endurance | 1000 |
| Connection terminal | Pillar terminal with clamp |
| Connection capacity | Rigid conductor up yo 10mm² |
| Fastening torque | 1.2Nm |
| linstallation | On symmetrical DIN rail 35.5mm , Panel mounting |
| Terminal Connection Height | H1=19mm H2=22mm |
| Products name  | disjoncteur tableau electrique |